Product Description
ABOUT HEMPLUCID WATER SOLUBLE CBD TINCTURE WHOLE-PLANT FULL SPECTRUM HEMP EXTRACT
Hemplucid's Water Soluble CBD tincture is a popular product for its potency, versatility, and the rapid onset of its effects. HempLucid's Water Soluble Tincture Hemp oil is developed with nano-technology to boost bioavailability. Because the nano-CBD particles are microscopically small, they are easily dissolved into the bloodstream and the body is able to utilize them quickly and efficiently and starts working immediately. This unique tincture uses a vegetable-glycerin carrier oil that mixes easily with water and thus disperses cannabinoids into the bloodstream rapidly and effectively.
WHY WATER SOLUBLE?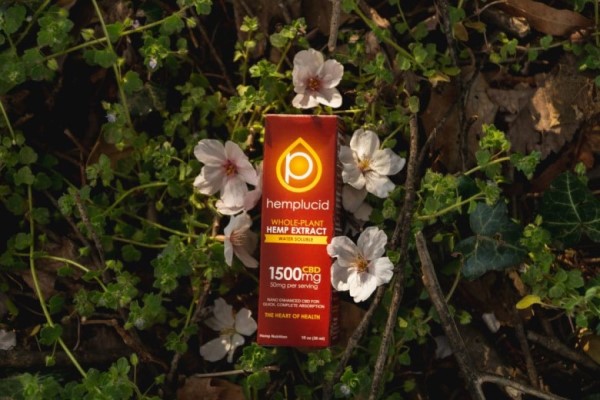 Water Soluble yields the highest sublingual bioavailability of any tincture. It's absorbed rapidly and prevents the body from flushing out cannabinoids for the rest of the day. HempLucid's Water Soluble CBD Tincture provides instant relief because it is produced with their patented Nano-technology. This process offers optimal CBD absorption through the use of nano-technology by creating microscopically small CBD particles that the body can utilize rapidly and efficiently.
WATER SOLUBLE CBD CAN BE:
Vaporized
Mixed with drinks and liquids
Sublingually administered
DURATION OF EFFECTS AND BIOAVAILABILITY - INCREASES CBD ABSORPTION
HempLucid Water Soluble Tincture is an increased-potency product that has synergistic effects with the body's composition, and the cannabinoids in this tincture are dissolved into the bloodstream immediately. When using this product, you will receive the full effects of hundreds of different hemp plant-based compounds, including terpenes, phytonutrients and phytocannabinoids. These compounds promote their own respective benefits while working together to create a synergistic impact known as the "Entourage Effect." This effect promotes a healthy body and mind by optimizing the therapeutic resources that the hemp plant has to provide. This genetically superior, high-potency CBD is in vegetable glycerin oil which offers instant relief that lasts for hours and delivers immediate, powerful and potent results each and every time.
THE BENEFITS OF WHOLE-PLANT, HEMP DERIVED CBD - THE ENTOURAGE EFFECT
The Entourage Effect is the synergistic benefit of whole-plant, hemp derived CBD that contains a range of naturally occurring terpenes and cannabinoids to maximize the effectiveness, potency and therapeutic scope of CBD.
Hemplucid's lab test results display the wide variety of cannabinoids that are included in their tinctures: CBDA, CBG, CBC, CBN, CBDV, and more.
You'll find that isolate CBD or broad-spectrum products are missing essential terpenes and additional cannabinoids. This means they cannot produce the full entourage effect, and lack the full range of benefits Whole-Plant CBD can provide to your body.
SUGGESTED USE:
Water Soluble used under the tongue, can be mixed into any drink, in cold cooking, or in a vaporizer. Because Water Soluble is formulated in smaller batches, there might be variations in color, ranging between bright gold to dark green.
INGREDIENTS:
Serving Size: 20 Drops – 1 ml Servings per Container: 30
Amount per Serving %DV
CBD (Cannabidiol) 8.3 mg (250mg)
CBD (Cannabidiol) 16.6 mg (500mg)
CBD (Cannabidiol) 33.3 mg (1000mg)
CBD (Cannabidiol) 50 mg (1500mg)
Daily value not established
Other Ingredients: Vegetable Glycerin, Nano Electrolyte Blend, Polysorbate80
PRODUCT DETAILS:
Product Name: Hemp-derived CBD – Vegetable Glycerin Base – Natural Flavor
Common Name: Hemp CBD Water Soluble
Product Description: CBD in Vegetable Glycerin and Natural Flavoring
Plant Part: Aerial parts of the industrial hemp plant
Intended Use: Oral Nutritional Product
Extraction Solvent(s): CO2
Country of Origin: USA
Potency: 250mg, 500mg, 1000mg and 1500mg per 30mL

FORMULA COMPOSITION:
Active Ingredients: Hemp CBD oil (CO2)
Medium Base: Vegetable Glycerin, Polysorbate 80
Added Flavorings: None / Natural Hemp

PHYSICAL AND CHEMICAL COMPOSITION:
Physical State: Liquid
Color: Viscous, light to dark amber oil
Odor: Hemp
Taste: Hempy
Water Activity: <0.06